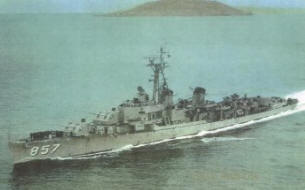 It has now been 68 years since the USS Bristol was commissioned and 45 years since it was decommissioned. Yet the USS Bristol Veterans Association is alive and well with 226 active members. Each fall since 1998 members and guests attend the annual reunion held in a different city each year. This year it was Nashville, TN and the next will be in Branson, MO.
The Association members range in age from the mid-sixties to mid-nineties and while the group attending the reunions grows smaller each year the camaraderie grows stronger. If you are now a member of the Association please mark your calendar and plan to attend in Branson in 2014. If you are not currently a member please carefully review the website and then send in your membership application to join up and plan to attend the reunion in Branson.
We invite everyone to spend some time on the website where you can see a new message from the Association President Paul Ratcliffe. Then, check out the various tabs so you can see 1) the many pictures categorized by timeframes (History tab); 2) the list of shipmates who are members, including the timeframes that they served and in some cases with before and after pictures (Members tab); 3) check out the Reunions tab and get a sense of the fun and team spirit of the attendees. 4) View the newsletters which are sent out several times a year to keep shipmates up to date.
Let us hear from you.
To see a list of recent postings and updates click here: What's New